---

Author: Nicola R. White
Narrator: Elizabeth Tebb
Length: 9 hours 2 minutes
Series: New England Furies, Book 1
Publisher: Strange Roads Press
Released: Sep. 18, 2017
Genre: Paranormal Romance


Tara Walker dreams of more excitement than slinging plates of seafood for Cape Cod tourists, but as she learns when she is attacked and forced to fight for her life, fate sometimes has a funny way of giving you exactly what you wish for. Faced with strange new powers and embroiled in a murder investigation, Tara must now race to uncover the secrets of the ancient Fury that has woken inside of her – and of the evil that stalks her.

As if Tara's life hasn't gotten complicated enough, she is forced to ally herself with Jackson Byrne, witness to her assault and uncle to a pint-sized oracle whose fate is intertwined with hers. Skeptical, stubborn, and oh-so-sexy, Jackson wrestles with demons of his own. He is determined to ignore the attraction rising between them even faster than the body count, but like it or not, he and Tara need each other if they are to unravel the mysteries that surround them.



Nicola R. White comes from a small city on the east coast of Canada where ghost stories and superstitions abound. Although she is a lawyer by profession, her passion is reading and writing fiction. In 2016, Nicola's debut novel, Fury's Kiss, won the $10,000 Kobo Emerging Writer Prize in Romance. She is currently producing her first graphic novel.

Nicola is a member of Romance Writers of America and Romance Writers of Atlantic Canada. She is a frequent guest and speaker at literary events such as Word on the Street and Hal-Con, the largest sci fi/fantasy convention east of Montreal.

I am a literacy specialist with experience performing in a number of roles. Having spent a great deal of time speaking publicly as both an educator and an administrator, I have accrued a varied skill set that I feel confident I can use to advance and advertise bodies of work. My passion for literature drives me to bring the voices within it to life.
Q: Have you always been a fan of Greek Mythology, or was it something new to you?

I have always loved mythology of all types and wanted to be an archaeologist when I was a kid. I knew the basics of Greek mythology when the idea for Fury's Kiss came to me, but I had to do much more detailed research for the book. As the series has grown, the world building has gotten very complex and I've learned a ton of interesting history and mythology.

Q: Are there plans to bring the rest of the series to Audio?

Yes! I hope to release the second book in audio by the end of this year, and then pick up the pace of production after that to get books three and four in listeners' hands as well.

I am SO excited!

Q: Are there any more titles planned in this series or a potential spin-off in this world?

Right now there are four books in my New England Furies series, with three more planned.
I wonder who those are going to be about?!

Q: I loved the character of Mrs. Hadley. Was she based on or inspired by anyone you know?

Mrs. Hadley is based on my grandmother. She is not quite as eccentric as Mrs. Hadley is, but she's a close second. She always has great stories to tell and knows the latest neighborhood gossip. She loves to try new things, even in her mid-80s, and you can count her to say something inappropriate and hilarious.
Those are always the best!

Q: Is there a hidden joke written into the bar? Especially with one of the men at the bar having the last name of Priest. One of those jokes that involves women of a certain hair color and a priest walk into a bar.

The bar is actually modelled after a bar where I worked as a bartender while I was in university. The description of the interior is very similar to the real thing and some of the characters that come into the bar are based on real people I met while working there. There was no particular meaning behind the last name of Priest, although I liked the irony of the name being attached to a "bad guy". However, there is someone who gets killed off in this book who shares a name with an old ex!

Q: As readers and listeners we all have our favorite lines, but what were some of yours. It may be the equivalent of asking a parent to pick their favorite child, but they know.

This is a tough one! I had a lot of fun writing Mrs. Hadley and she is a fan favorite, so pretty much any of her lines could qualify. I also had fun imagining the unintentionally funny things Ruby might say, like confusing her Navy SEAL uncle with an actual seal (the animal). Finally, I really like the last lines of the book, although I won't quote them here and spoil it for readers/listeners.

To read my full review, Click Here
---
I received this audiobook as part of my participation in a blog tour with Audiobookworm Promotions. The tour is being sponsored by Nicola R. White. The gifting of this audiobook did not affect my opinion of it.

Fury's Kiss Giveaway: 3-month Audible Membership

Also available from Nicola R. White

Jul. 10th:
Jul. 11th:
Jul. 12th:
Jul. 13th:
Jul. 14th:
Jul. 15th:
Jul. 16th: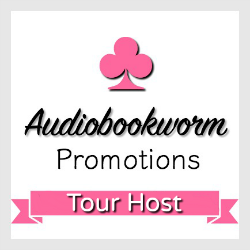 ➜Sign up as a host here